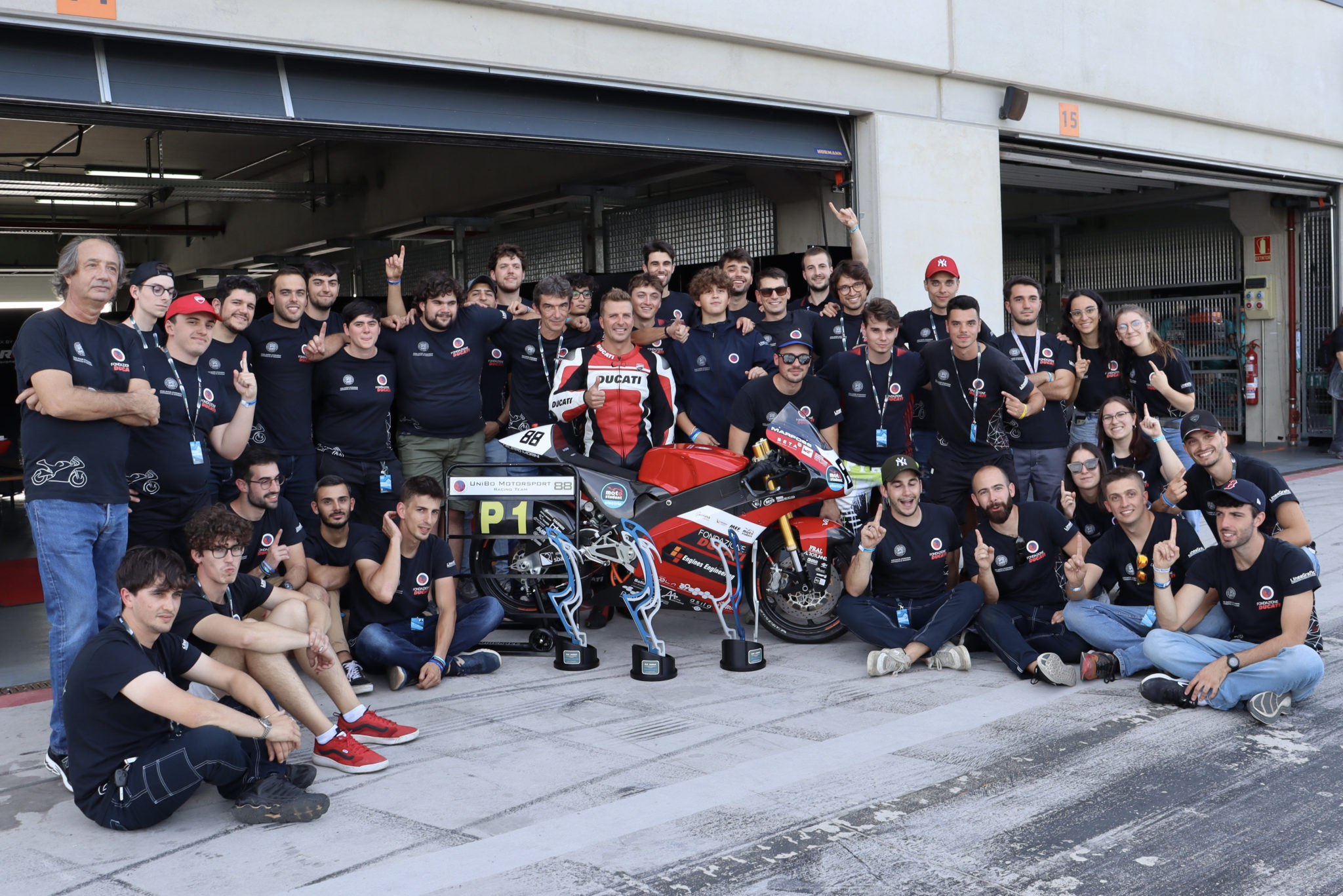 21 Nov

University of Bologna MotoStudent World Champion 2023

The seventh edition of MotoStudent, the global competition among more than 70 university teams from 4 different continents, concluded on Sunday, October 15, at the Motorland Aragón international circuit in Spain.

UniBo Motorsport secured an extraordinary first place for Nemesi, the electric motorcycle designed by students from the University of Bologna, supported by the Ducati Foundation as the main partner. On the first day, Wednesday the 11th, the electric prototype successfully passed all technical inspections on the first attempt, including the Rain Test and Press Test, two of the most challenging tests.

The following day, the team focused on the Dynamic Safety Check, where professional riders from the organization tested the motorcycles of various teams to evaluate their safety and drivability. On Friday, in addition to the first dynamic tests, namely Brake Test, Gymkana, and Acceleration, the Final Presentation took place. This is a 30-minute presentation in front of the judges, summarizing all the design and cost management work carried out over the previous two years.

The results of the MS1, the evaluation of this presentation and all the documentation submitted throughout the year, were announced on Saturday evening and rewarded the excellent work of the team, which received all 3 trophies at stake: Best Innovation, Best Design, and Best Project.

On Saturday, FP1 and FP2 took place. The score in these tests is determined, respectively, by the highest speed on the long straight and Regularity, which is the difference between the times recorded in a specific sector over 3 laps. Finally, the last day was dedicated to qualifications, where the team obtained the pole position, and the race, in which UniBo Motorsport secured the first position.

The Bolognese team conquered the first place in MS2 (all dynamic tests), and above all, the top step of the podium in the overall evaluation, reaffirming itself as the MotoStudent world champion in 2023, following the success of the previous edition.

The final result makes the entire team extremely proud and satisfied. The determination, the desire to learn, and the teamwork spirit of the University of Bologna students have always been present, allowing them to overcome all obstacles and crown many months of hard work.